JERRY HALLMAN

FARMERS INSURANCE
Thursday, September 05 2019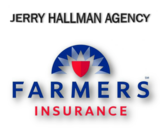 Additional Features
The new and easy-to-use Farmers Mobile App gives you access to your policies with other convenient features:
Stay connected to your agent
If something unexpected occurs or you have a question, your Farmers agent is the person to turn to. From within the Farmers Mobile App you can call, email or get directions to your agent's office.
---
Go Paperless
Sign up to receive your policy documents and billing notices electronically. It's a convenient, clutter-free and fast way to access your policies and statements. In addition, going paperless will benefit the environment and may allow you to save on installment fees. §
---
Report a Claim
An updated interface lets you file a new claim, right from the palm of your hand.
---
Receive Billing alerts via push notification
Get payment reminders with Farmers Mobile App push notifications.
---
Get the Farmers Mobile App today!
The Farmers® Mobile App supports accounts for Farmers auto home, umbrella and life policies, with more lines of business coming soon.
Insurance ID cards available in all states with the exception of New York and New Jersey.
Not all Farmers Mobile App features are available in all states.
Discounts not available for all insurance products in all states.
Features on this app are available for Farmers policy holders with registered online accounts.
Farmers will not charge you for text messages, or the use of the Farmers Mobile App. However, you may see usage charges from your service provider depending on the type of data/rate plan you are currently on. Updates of Billing information, policy information and delivery of in-app messages may be delayed for various reasons, including service outages affecting your phone, wireless or internet provider.
All access to and use of this App is subject to and governed by the Farmers Terms of Use and Privacy Statement.
Touch ID®, Apple and the Apple logo are trademarks of Apple Inc., registered in the U.S. and other countries. App Store is a service mark of Apple Inc., registered in the U.S. and other countries.
iOS® is a registered trademark of Cisco in the U.S. and other countries and is used under license by Apple, Inc.
Google Play, the Google Play logo and Android™ are trademarks of Google, Inc.
Office Hours
Day of the Week
Hours
Mon:

8:30 AM

-

6:30 PM

Tue:

8:30 AM

-

6:30 PM

Wed:

8:30 AM

-

6:30 PM

Thu:

8:30 AM

-

6:30 PM

Fri:

8:30 AM

-

6:30 PM

Sat:
Closed
Sun:
Closed
Weekends by appointment only.
Want to Save More Money?
Did you know you may qualify for discounts when you purchase more than one policy from Farmers?
Get online quote today.
A preliminary rate ("quote") is for insurance coverage you select. Certain assumptions may have been made that will influence the quote you receive. A quote is not an offer for insurance, an offer of an insurance contract, nor is it an insurance contract, binder or an application to purchase insurance. The coverage descriptions provided are general descriptions of available coverage and are not a statement of contract. Rates quoted reflect the rates in effect as of the date of this quote and are subject to revision. Your actual premium may vary based upon additional information you provide or we obtain, the coverages and deductibles that you select, any additional underwriting criteria, and removal of any assumptions. Farmers reserves the right to accept, reject, or modify this quote after review of the application and other underwriting information. All applications are subject to underwriting approval. Farmers online quotes are for new customers only. Existing customers are requested to contact their local agent to make changes to their policy. Quoted rates do not include fees permitted by state law.
Auto Insurance Tacoma, Tacoma, WA